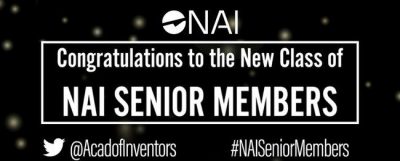 On February 12, 2021, faculty researchers Professor Yupeng Chen, along with Professor Changchun Liu, and the Technology Commercialization Services' (TCS) Mostafa Analoui, and Greg Gallo have been elected National Academy of Inventors (NAI) Senior Members. The recognition by NAI shows the important work these researchers do and the significance of collaboration among the faculty inventors and TCS experts. Professor Yupeng Chen is part of the 67 NAI senior members selected in the class of 2021. Professor Yupeng Chen was selected to be among the U.S. and international universities, and governmental and non-profit research institutes with over 4000 members worldwide! The members are all innovative rising stars in their discipline, and have now joined the NAI community!
NAI was founded in 2010 to recognize and encourage inventors with patent issued from the U.S.Patent and Trademark Office (USPTO), enhance the visibility of academic technology and innovation, encourage the disclosure of Intellectual property, educate and mentor innovative students and translate the inventions of its members to benefit society.
Established in 2017, the goals of the UConn Chapter of the National Academy of Inventors (NAI-UConn) are to promote scientific innovation and inventorship across all disciplines in the UConn community. Their missions are to develop education and mentorship programs around invention and inventorship and increase awareness regarding innovation and encourage the disclosure of intellectual property (IP).
Tags: #UConnInvents, #UConnResearch #UConn #UConnTCS #NAISeniorMembers @AcadofInventors #NAI #UConnNAI
More Information here:
UConn Leaders Named NAI Senior Members
The National Academy of Inventors 
Congratulations, once again, Professor Yupeng Chen!
---