Good day everyone!
As you may know (or may not!) from our previous update, Maxwell Landolina (our undergraduate student) and Delaram Ghanbariamin (our Masters' student) accepted the offer to be a full time Doctoral Student working under Dr. Yupeng Chen (Delaram will also be working with Dr. Ali Tamayol, dual advisors!!). Congratulations to them! This is exciting news for us and our lab! We are excited to welcome the graduate students! And of course, Leah will be joining us in Fall 2022 as a 4+1 Masters student (in BME), Ryan Demarco is currently working with us in the summer and is coming in as a Masters student as well! Our lab is expanding and WE ARE HERE FOR IT!  Max and Leah graduated, they will be joining us next Fall as graduate students. Sydney accepted a doctoral student position in UMASS Amherst, while Aaron Beams is going to work in industry (GO Aaron!). Allison Surian, our Master's student, graduated!!!!! CONGRATULATIONS TO HER (Again :P)!
Onto another more recent news, we recently published a methods paper by JOVE!! Max and Anne worked on it and they had a video shoot as well! The paper is based on a paper by Libo et al.  Controlled Self-Assembly of DNA-Mimicking Nanotubes to Form a Layer-by-Layer Scaffold for Homeostatic Tissue Constructs
Our published JOVE  paper is here Fabrication and Characterization of Layer-by-Layer Janus Base Nano-Matrix to Promote Cartilage Regeneration with video coming soon (because we did that just past this week of July 4th 2022)!
Below is the picture of us (Max and Anne) doing a video shoot for the paper!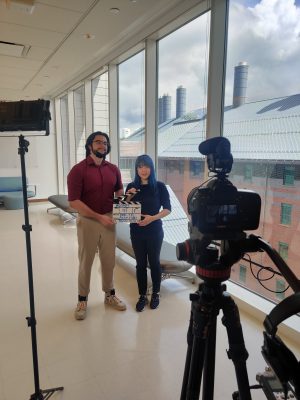 There are so many exciting news! We will bring them to you as soon as we can! Thank you for reading!