Happy Holidays and Happy New Years!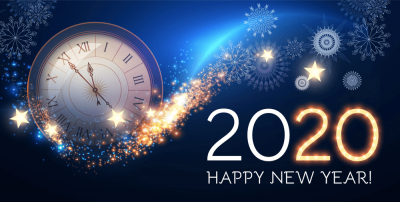 Image: Link 
Happy Holidays to all~ and HAPPY 2020! A new decade is here, and let's face it with confidence and a positive mindset! Do you guys have new year resolutions? I, (Anne), kinda gave up a couple of years ago, because I never seem to get it done by end of the year. But I am willing to try to set a goal for myself this year, academically as well as personally!
New Year is also a wonderful time of the year and the perfect time to wish everyone well. A New Year is like a blank book and the pen is in your hands. It is your chance to write a beautiful story for yourself! Every year-end marks a new beginning! I wish everyone a Happy New and Fulfilling Year of 2020 (and many years to come)
How was Winter Break so far? We hope it has been a great one! It didn't snow much other than the couple times before the winter solstice, but we heard more snow is coming since the real "winter" is here (January/ February?) Everyone in the lab is working hard this winter break and I hope everyone got to at least take some time off to relax before the semester starts again on 1/21/2020!
Be prepared for more snow and cold! Stay warm, everyone.
---